Your guide
Hilton Riyadh Hotel.. Amazing Views and Special Services for People with Special Needs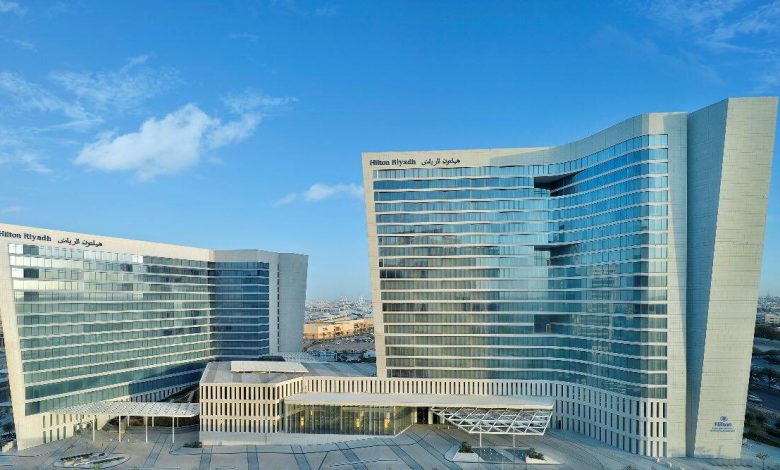 Hilton Riyadh Hotel
Hilton Riyadh Hotel is one of the international Hilton hotel chains that is known to be as the most luxurious among other hotels in the Saudi Arabian capital.
If you are in search of a unique and luxurious experience and services, this hotel should be on your top list.
The Hilton Riyadh hotel is distinguished by its luxurious atmosphere and its mesmerizing glass façade, beautiful interiors, and magnificent panoramic elevators.
The hotel connects to the Riyadh Metro service across the horizon and is also linked to the Granada Shopping Center which is full of high-end restaurants and more than 120 stores.
It is located close to the city center, business district, and most famous attraction sites, with views of Al Faisaliyah Tower in addition to the Kingdom Center which is twenty minutes away from the 200-storey Center Point Tower, and that is also half an hour away from Al Bujairi Heritage Park and the Saudi National Museum.
Services of the Hilton Riyadh Hotel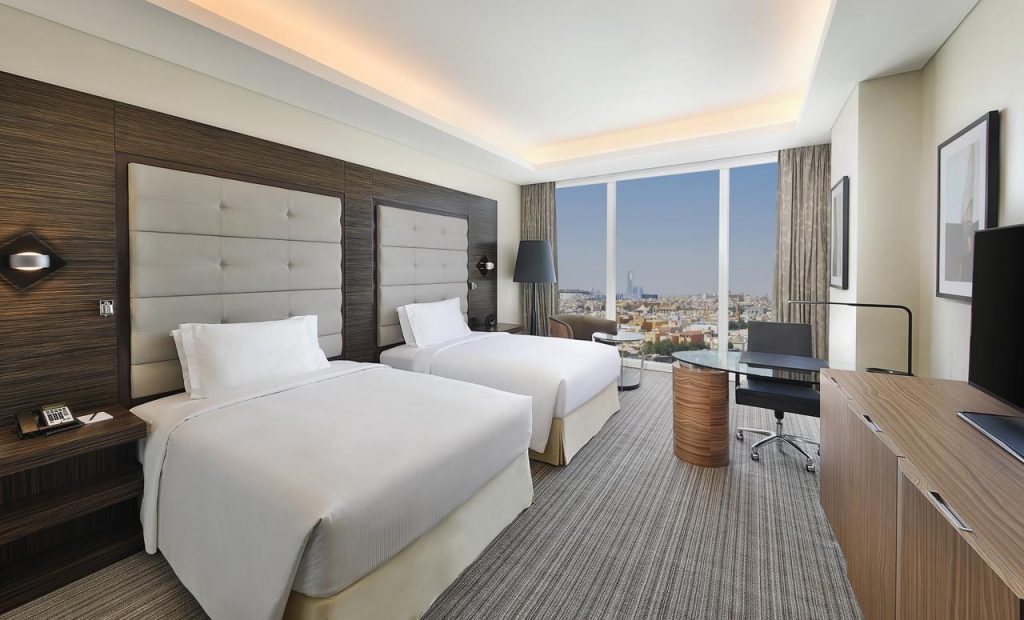 The services of the Hilton Riyadh Hotel comprises of comfortable modern rooms that has a wide view over the center of the Saudi Arabian capital and its landmarks which are engulfed by the quiet streets of Riyadh.
The room includes either one bed or two beds depending on your choice which comes with the coziest pillows and bedsheets, a flat screen, a work desk, and a bathroom filled with modern amenities.
Royal suites are available as well and has a bedroom, a living room, a work desk, a dining table, a meeting room, and even tea and coffee making facilities.
There are also executive rooms present at the hotel that are suitable for business people as they consist of a lounge for business meetings that offers a free full breakfast every morning along with refreshing juices throughout the day. This room includes a large-sized bed, a 42-inch LCD TV, a coffee machine, free Wi-Fi, and a congenial work area which helps you to get your work done peacefully.
The hotel features two indoor swimming pools, a fitness center, a spa area, free Wi-Fi, a kids club, and a local transfer service as well.
One of the main services provided by this hotel, is that it is suitable for holding international conferences and important business meetings, since it includes 11 meeting rooms that are equipped with the latest sound and lighting systems.
Rooms for People with Special Needs in Hilton Riyadh Hotel
The hotel provides a variety of services for people with special needs in which they supply the necessary comfort and space needed by wheelchair users or for people that face difficulty in moving, this room will enable them to freely move around the place easily.
The bathrooms are equipped with spacious glass showers, handles to maintain balance on both sides of the toilet, and a washbasin that is easy for people with special needs to use since it is equipped with high-quality special gadgets.
Restaurants in Hilton Riyadh Hotel
The restaurants of the Hilton Riyadh hotel vary between Turkish, Chinese, Thai, and Japanese cuisines, which includes a list of hot drinks, light meals, and breakfast that extend between continental, Italian, English, Irish, Asian, American, and a buffet including vegetarian food too.
"Ambar" café and "Anar" restaurant are available at the hotel. "Anar" is known for its unique style and charming oriental atmosphere which serves Armenian cuisine. Here, guests can taste food through the intensive use of aromatic herbs applied in an innovative manner to create the best classical and original Armenian dishes.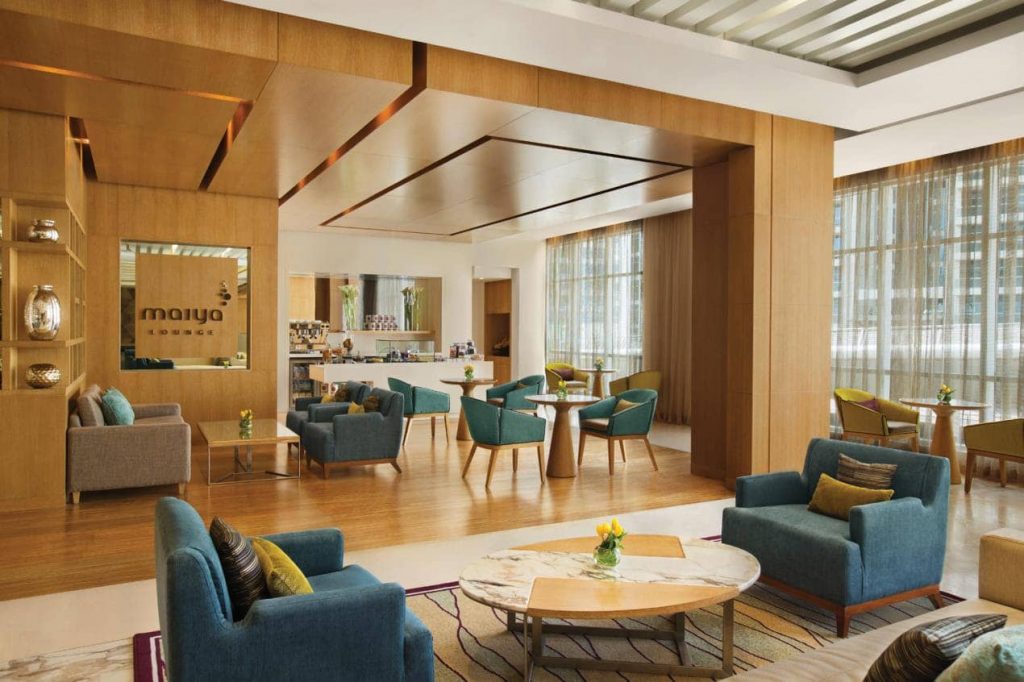 The "Arabica" restaurant offers an international buffet in which people enjoy their breakfast and lunch while having a look at the view ahead of them since the restaurant is overlooking the city of Riyadh. Another option is the Asian restaurant called "Lotus" which serves Asian cuisine and is surrounded by a simple-elegant design. This restaurant has a separate private dining room and an outdoor terrace overlooking the landscape.
"Teatro" is the main restaurant in the Hilton Riyadh hotel with an international style. Guests can enjoy the view over the city of Riyadh while eating dishes prepared from fresh seasonal products and served with a high-quality service that people usually enjoy.
Additional Services in Hilton Riyadh Hotel
The Hilton Riyadh hotel includes a range of additional services such as an on-site restaurant with halal food, an indoor swimming pool, a garage, a fitness center, a business center, concierge services, an executive lounge, room service, work rooms, and a prayer room.
The hotel prohibits pets and smoking rooms.
Reservation of Hilton Riyadh Hotel
Reservation of the Hilton Riyadh hotel can be done through the online reservation service available, via American Express banks, Diners Club, JCB, Master Card, and Visa Credit card. The payment currency is usually in Saudi riyal.
Cancellation policies differ depending on the price and dates of your reservation, please refer to your reservation confirmation to verify the cancellation policy.
If you need further assistance, you can contact the hotel directly or call customer service. Alternatively, you can cancel your reservation online.
Registration time is from 3 PM, and the checkout time is at 12 noon.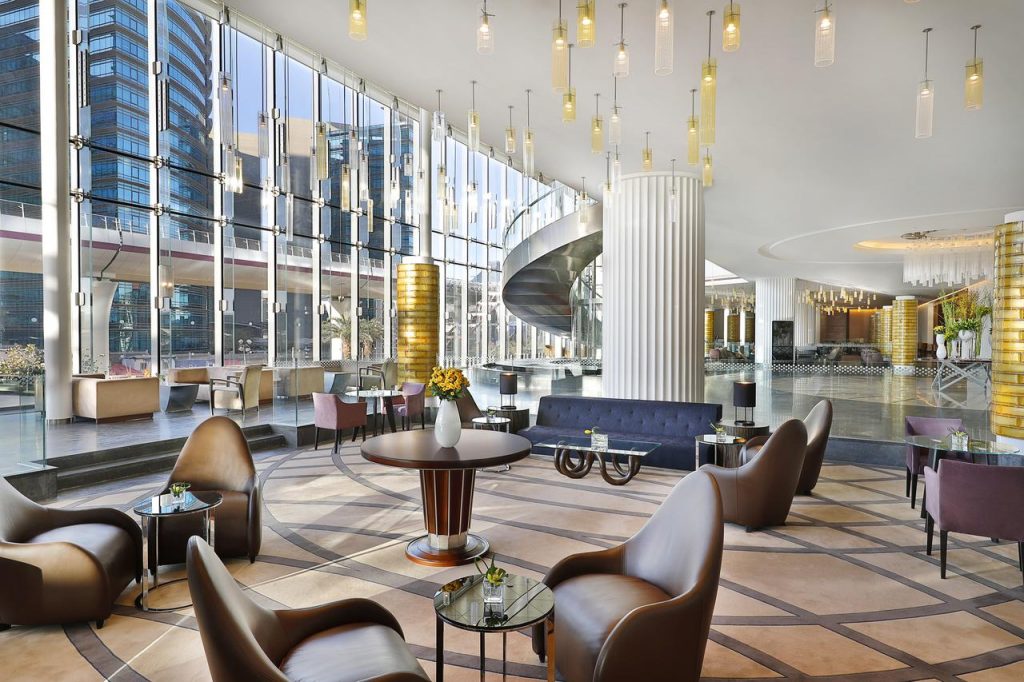 Landmarks Nearby the Hilton Riyadh Hotel
The hotel is located near high-end tourist attractions, namely the Al-Masmak Museum, Wadi Hanifa District, Al Murabba Palace, and the National Museum.
Location
The Hilton Riyadh hotel is located 14 km away from Olaya Mall and Riyadh Park, and is 25 km away from King Khalid Airport.
Prices
The prices for the Hilton Riyadh hotel starts from 617 Saudi riyals per night, to 14,800 Saudi riyals which depends upon the customer's choice of room according to its spaciousness and the services it provides.
Address
6623 Al-Shuhada District – Eastern Ring Road 13241 – 2892, 11622 Riyadh – Kingdom of Saudi Arabia.
Phone Number
Facebook page
Website