Your guide
Atana Stay Al-Ashkharah Hotel.. Get introduced to its 10 most famous features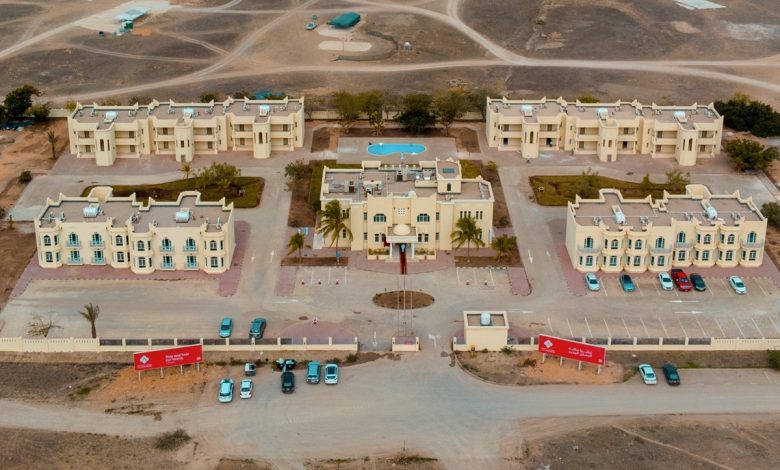 Atana Stay Al-Ashkharah Hotel is one of the significant hotels in the city of Al-Ashkharah which is considered as one of the most beautiful cities that the Sultanate of Oman is famous for. If you are looking for an amazing natural atmosphere along with all the elements of enjoyment, Al-Ashkharah is the perfect place for you!
This city is famous for its attraction for tourists from all over the world especially those who wants to enjoy the picturesque natural atmosphere and spend some comfortable and happy times while embracing the natural place that this hotel is surrounded with.
In this article, we will introduce you to the Atana Stay Al-Ashkharah Hotel, which is one of the best hotels in this city.
You can click here to read the article in Arabic
Al-Ashkharah City location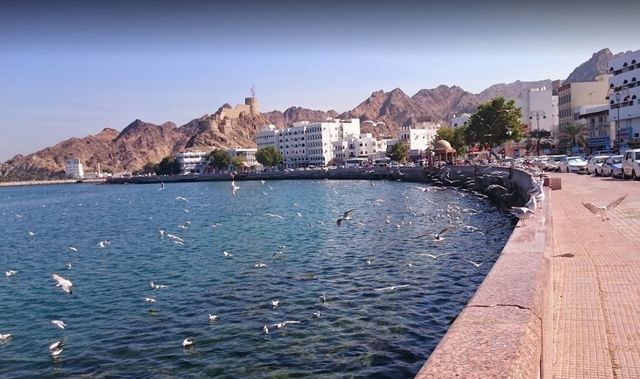 Al-Ashkharah is located in Jalan Bani Bu Ali, which is affiliated with the South Sharqiyah Governorate in Oman, and it is close to the Governorate of Muscat, that is about 350 km away from it. It is characterized by the villages and coastal areas on the coast of the Arabian Sea, from both the north and the south.
Advantages of Al-Ashkharah City
Visitors in Al-Ashkharah can practice in many activities such as surfing and other distinctive activities too. It is distinguished as a source for exporting the finest types of fish, and not only that, but it also has many traditional industries such as textile, ships and boats.
Al-Ashkharah is well known for the variety of hotels and resorts that feature a panoramic view of the green landscape and that provide many services and advantages for visitors. The hotels are usually distinguished by their proximity to all tourist attractions.
In the following lines, we will introduce you to one of the most important hotels for which Al-Ashkharah is famous for and this hotel is the Atana Stay Al-Ashkharah Hotel.
Atana Stay Al-Ashkharah Hotel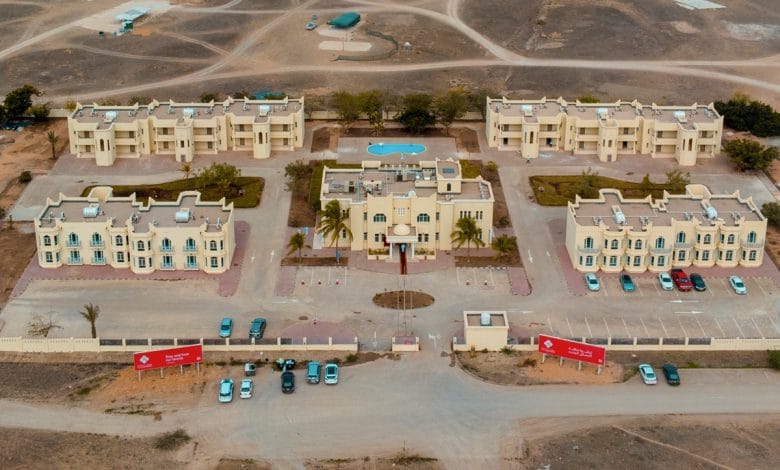 Atana Stay Al-Ashkharah Hotel is one of the most famous and beautiful hotels in Al Ashkharah city. It enjoys the privilege of having a unique location among the coasts of Oman since it lies between the prestigious desert sands and the beautiful turquoise Indian Ocean.
Adventurers and visitors from all over the world like to visit this place because it is far away from the bustling urban life, but near to all sources of entertainment and attraction. This hotel is only 30 minutes away from the turtle's sanctuary that is on the coastal side, and it overlooks the stunning landscapes which adds to the beauty of this place.
Rooms at Atana Stay Al-Ashkharah Hotel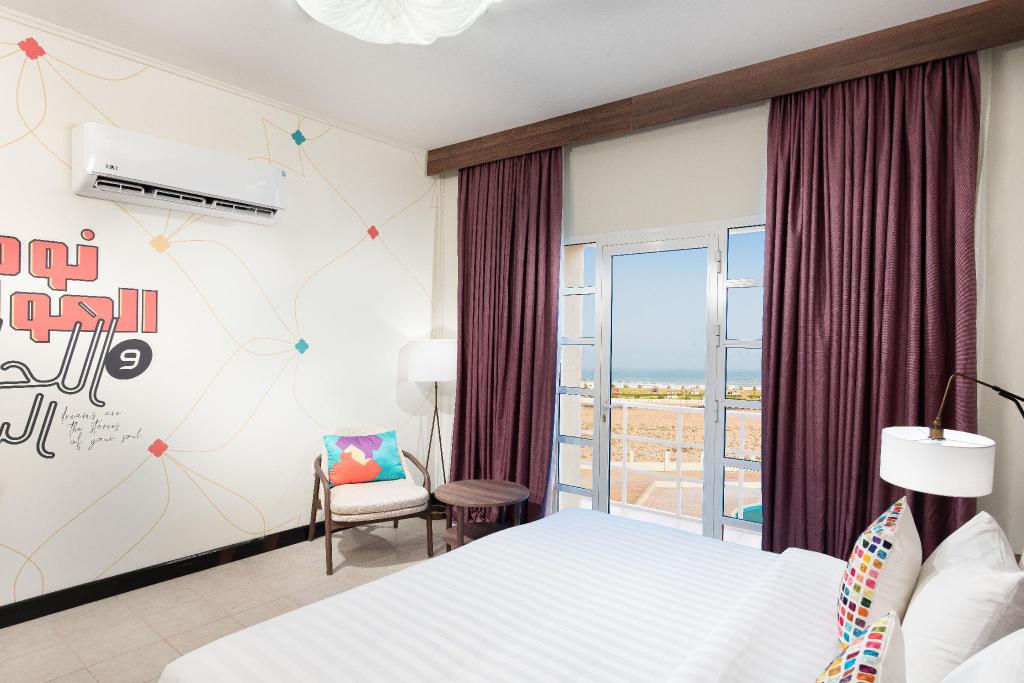 This hotel has all the needs and capabilities that the visitors are in search of, and it is known for the presence of rooms and suites that provide a comforting space in addition to their charming view of the ocean waters, a flat TV screen with satellite channels, a private bathroom, and a 24-hour guest room service.
All rooms are equipped with a wardrobe for clothes, a tea and coffee maker machine, and a refrigerator. The room consists of a private bedroom to sleep in, and a living room that is separate from the bedroom. It is also perfect for both families and friends who would like to share the same residence.
The rooms and the suites have different views, so you can choose between rooms overlooking the balcony or the ones with the view over the garden and the pool.
Room rates in Atana Stay Al-Ashkharah Hotel starts from 1,283 OMR.
Activities and Entertainment at Atana Stay Al-Ashkharah Hotel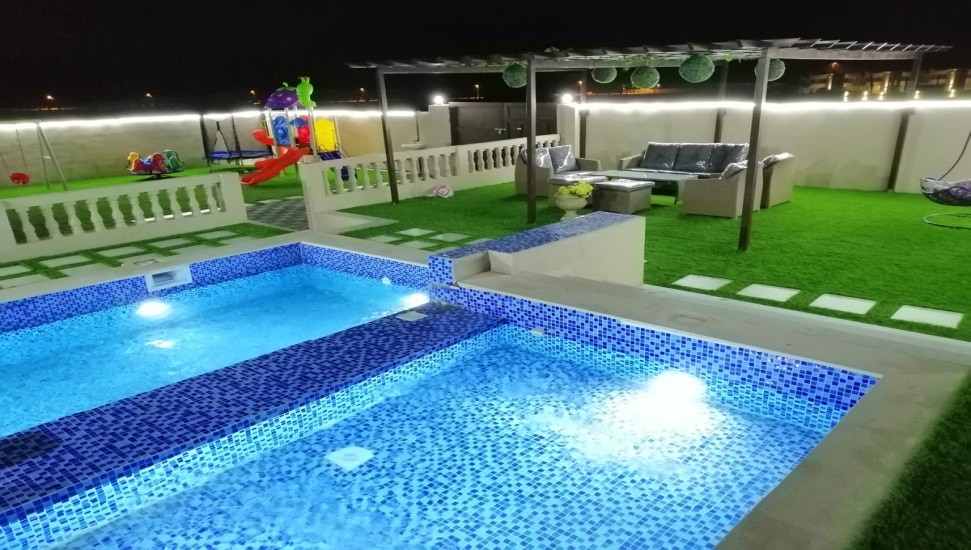 The hotel provides the visitors with a set of activities that are entertaining to them and which grants the needed leisure time that embraces their whole period of stay. These activities include, the hotel's beach, archery, a loop around local culture, children's pool, walking tours, movie nights, beach chairs or deckchairs, fishing trips, cruises, sand boarding, camel rides, and stargazing.
There are some activities with additional fees including surfing, snorkeling, fishing, canoeing, and hiking outside the venue.
The Vicinity of Atana Stay Al-Ashkharah Hotel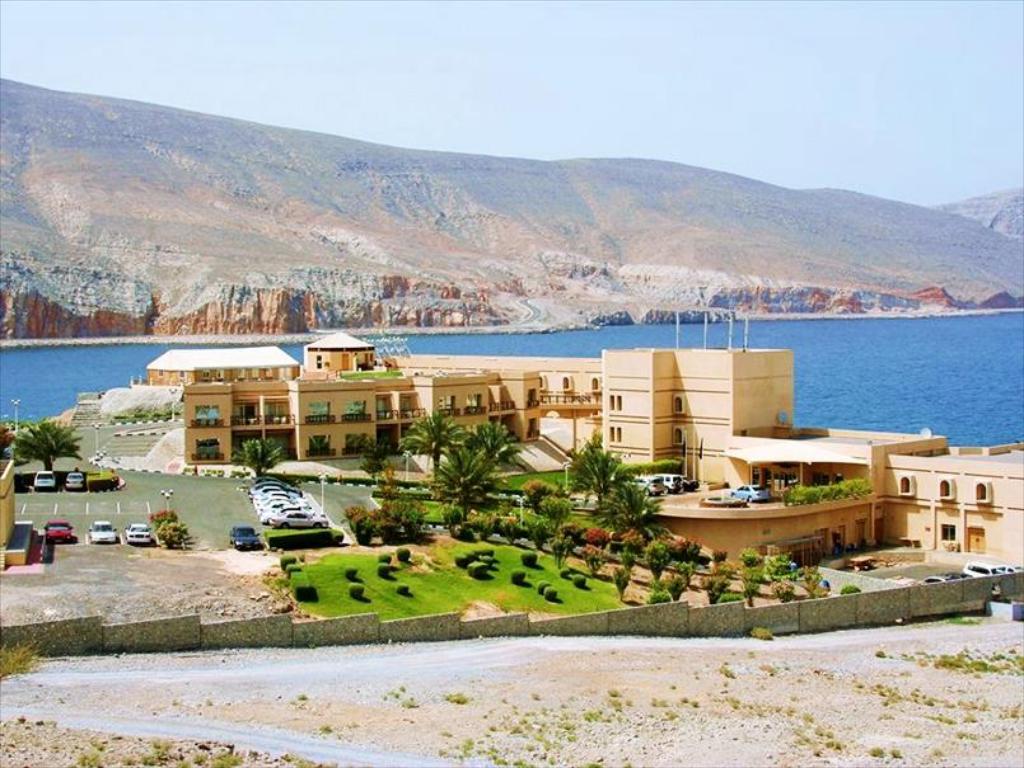 What increases the beauty and attractiveness of the Atana Stay Al-Ashkharah Hotel is the surrounding attractions, restaurants and cafes that bring you more enjoyment and relaxation. The hotel is surrounded by the Ibin Al Nowkhaja restaurant, Zam Zam coffee shop, grocery stores and supermarkets, including the Ahli market.
Policies of Atana Stay Al-Ashkharah Hotel
Atana Stay Al-Ashkharah Hotel has a set of policies that must be followed, and these policies are what usually brings fame and attractiveness to this hotel.
The following are some of the most important policies at the hotel:
Pets are not allowed in the hotel.
Only banknotes are accepted.
Children of any age are allowed in the hotel.
Children from the age of 12 years old and above are considered as adults in the residence room.
There is no place for additional children's beds or any form of extra beds in the residence room.
Hotel check-in is from 2:00 PM – 11:30 PM.
Hotel check-out is from 10:00 AM – 12:00 PM.
Facilities at Atana Stay Al-Ashkharah Hotel
The hotel is characterized by a variety of other facilities and services that grants visitors the needed comfort and enjoyment which also makes their stay much easier.
These facilities include:
Daily cleaning services, including ironing services, dry cleaning services, and laundry facilities as well.
Family and entertainment services, including an indoor play area, and safety gates for children.
Parking services, including a free parking on site, a parking lot for people with special needs, a parking garage, a streetcar park, and a secure car park.
Safety and Protection Services at Atana Stay Al-Ashkharah Hotel
The hotel is well known for the security services available that ensures safety for all the visitors. These services include the presence of fire extinguishers, closed circuit television cameras outside the residence, closed circuit television cameras in common areas, smoke alarms, alarm bells, and a 24-hour security person.
The presence of reception services, comprising of a private check-in and check-out service, a concierge service, an express check-in service for arrival and departure, and a 24-hour front desk is always available.
General Services at Atana Stay Al-Ashkharah Hotel
The presence of a shared lounge and a TV area, a place designated for smoking, air conditioning system, car rental services, a suite for newlyweds, facilities for people with special needs, non-smoking rooms, room service, family rooms, and VIP room facilities as well.
It is also characterized by the presence of business facilities services which includes fax, photocopy services, meeting rooms, and more.
Languages Used in the Hotel
There are multiple languages to speak at Atana Stay Al-Ashkharah Hotel including Arabic, English and Hindi.
Food and Beverages at Atana Stay Al-Ashkharah Hotel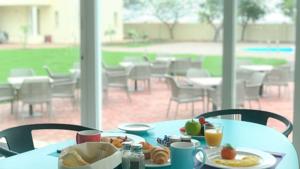 The hotel features a variety of food and beverages such as chocolates or biscuits, fruits, a bottle of water, a suitable buffet for children, children meals, a la carte diet menus, breakfast service in the room, a restaurant, a mini bar, and a tea and coffee maker machine.
Guest Rating for Atana Stay Al-Ashkharah Hotel
Guest reviews from Booking are very good, and some of the reviews of these visitors are as follows:
One of the visitors said that the staff members of Atana Stay Al-Ashkharah Hotel have a sophisticated way of dealing with the guests, and the rooms are very spacious and comfortable as well.
Another person commented that the hotel has an excellent location, the rooms are clean, the décor is nice, and the rooms and halls are both of large sizes.
Someone also said that the place is very quiet, the rooms are clean, the apartments are spacious, your car park is in front of your accommodation, and the hotel staff are very kind.
Phone Number: +968 9885 5013
Page on Facebook: https://www.facebook.com/AtanaAshkara/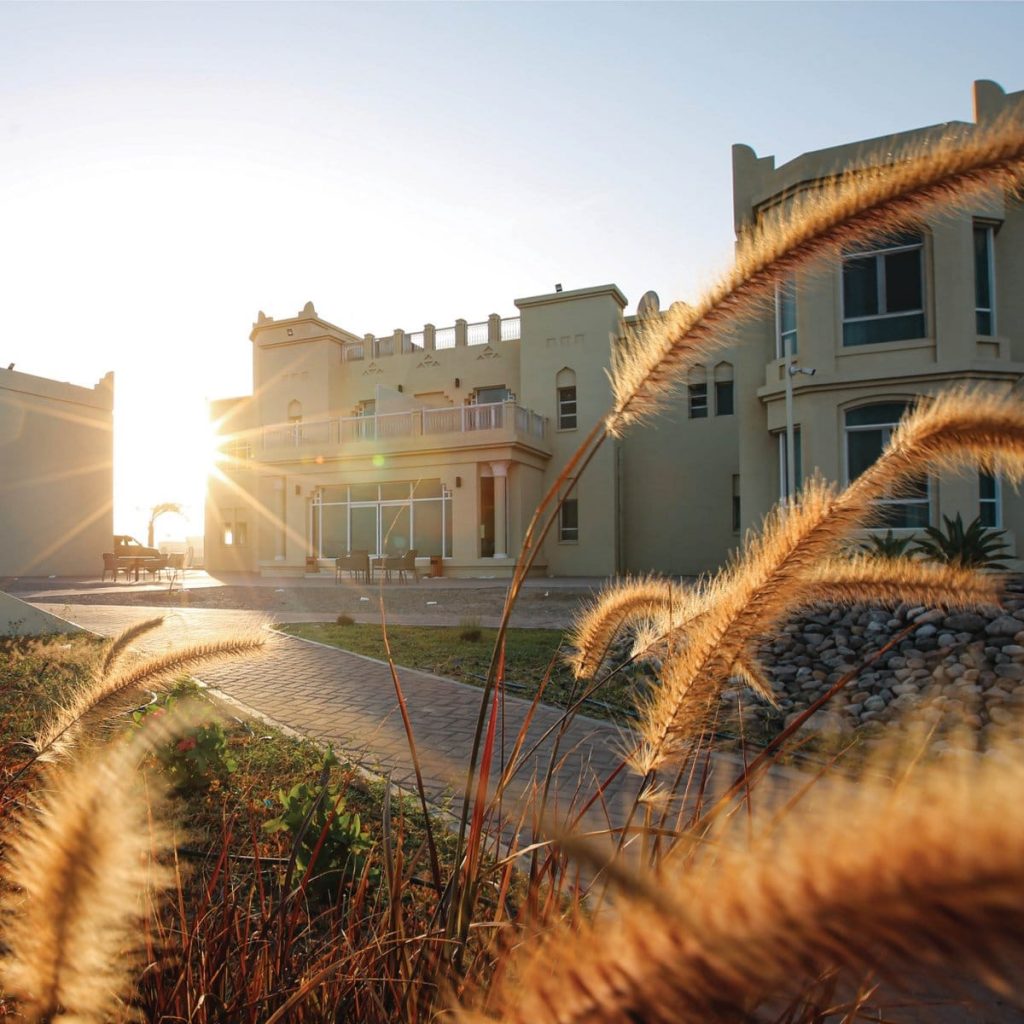 This hotel is highly recommended for a great vacation filled with enjoyment and some quality time with your friends and family. Do not forget to comment about your experience if you have already visited this hotel, and if not, would you visit it after reading this article?