Tourism
Dubai Miracle Garden … The Gateway to Nature, Relaxation and Entertainment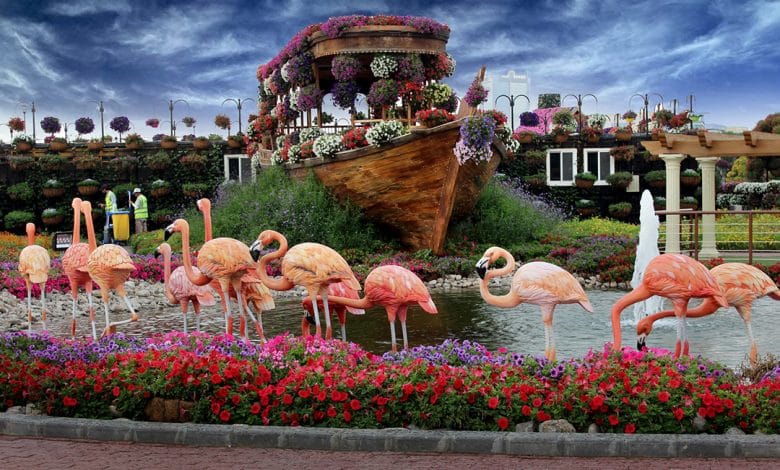 Dubai Miracle Garden is considered one of the most important tourist and entertainment destinations in the Emirate of Dubai. It is a stunning garden with more than 150 million flowers coordinated in arches and colorful patterns.
It is open to citizens and residents from November to May every year.
Also, click here to read the article in Arabic.
Dubai Miracle Garden
Once you enter the garden, you will feel that you have entered a paradise. You'll find yourself surrounded by harmonious, bright and beautiful bouquets of flowers that take your eyes to the world of nature and relaxation.
For children, they will be able to relate to nature and feel the love of flowers and plants.
The beautiful landscapes inside the garden, consisting of 150 million flowers, have been recorded in the Guinness Book twice, as the largest vertical garden in 2013, and the largest botanical sculpture in the world in the shape of an Airbus A380 in 2016.
Furthermore, the garden welcomes more than a million and a half visitors annually.
The innovations within Dubai Miracle Garden vary between cartoon characters that children love, castles and carved shapes. Thus, we will list them for you.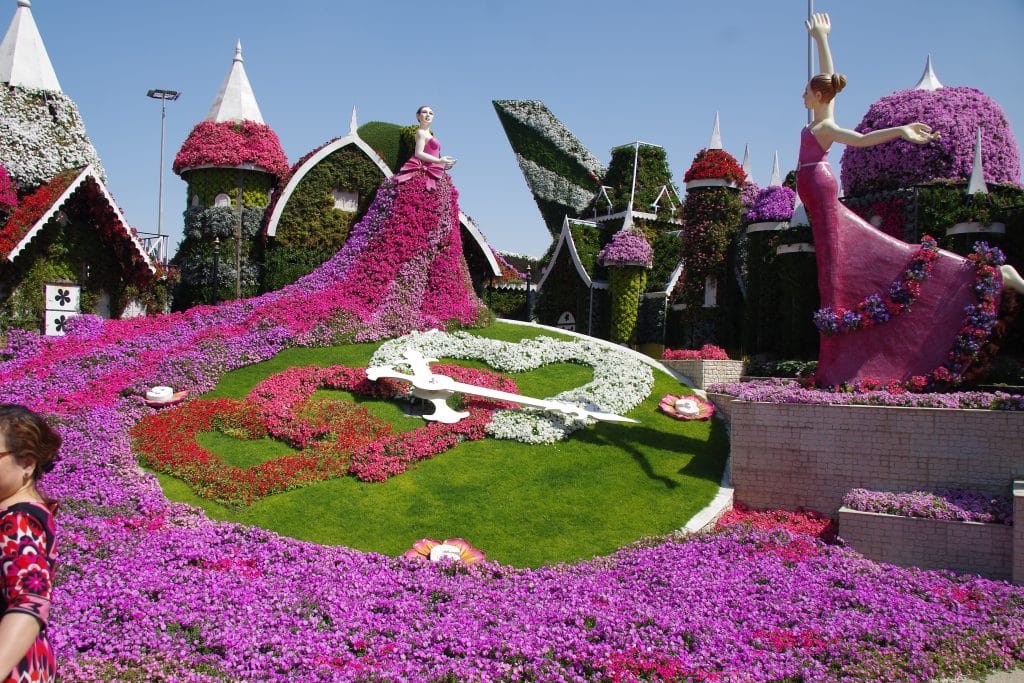 "Mickey Mouse"
During your visit, you will be surprised by seeing the largest model of the cartoon character «Mickey Mouse» made of 100 thousand flowers.
Based on an agreement between the park and Disney World, the character was designed at a height of 18 meters, and weighing 35 tons.
The Teddy Bear's model consisting of thousands of fresh plants and flowers comes After Mickey Mouse's to be the children's second favorite spot in Dubai Miracle Garden.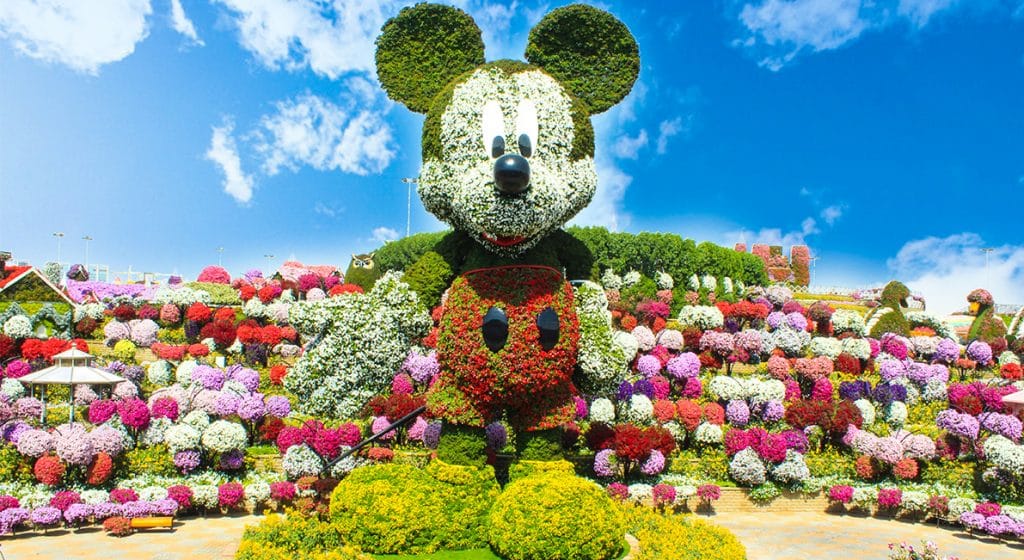 The Lost Paradise
"The lost paradise" is a series of flowers that goes 20 feet underground where you can find dozens of flowerhouses and bungalows as if you have gone to a real lost paradise.
The Water Park
A Walk in the water park that is scattered with flowers will help you relax and free your mind. It is flooded with colorful flowers and a water fountain where visitors can sit around the lake.
Lakes all over the world are a popular sight but Dubai Miracle Garden has incorporated its lakes in one of the most creative ways.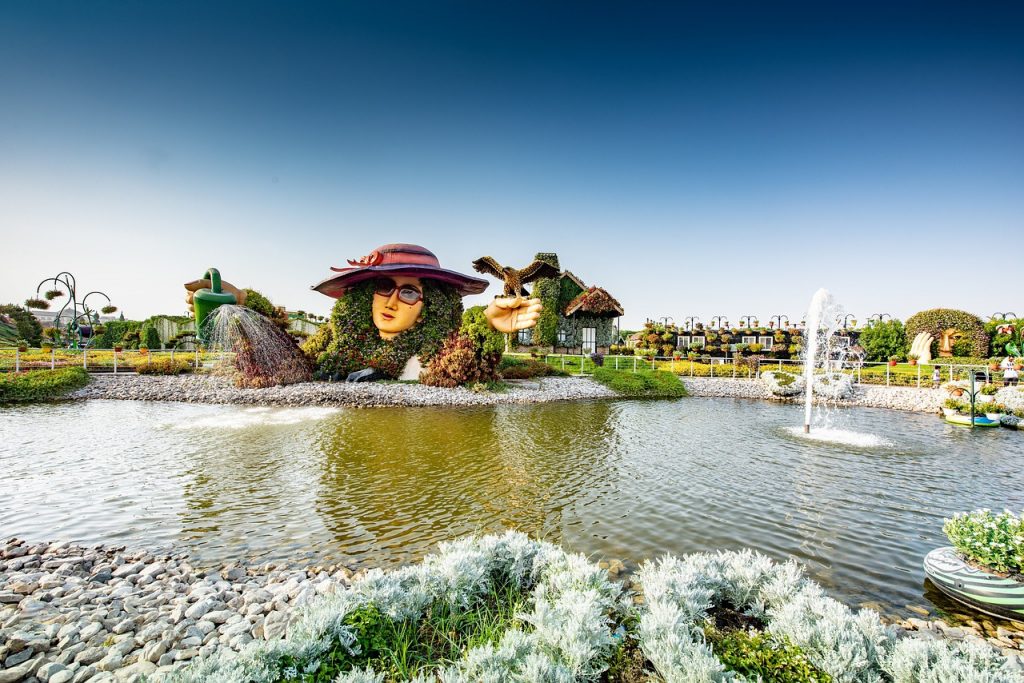 The Hearts Passage
The Hearts passage is the most unique tourist attraction in Dubai Miracle Garden. It gives you the impression of love and warmth when you walk inside the first passage made up of a big heart. Then, you will find smaller and smaller ones where you feel the love and scents as if you have entered the heart of the garden.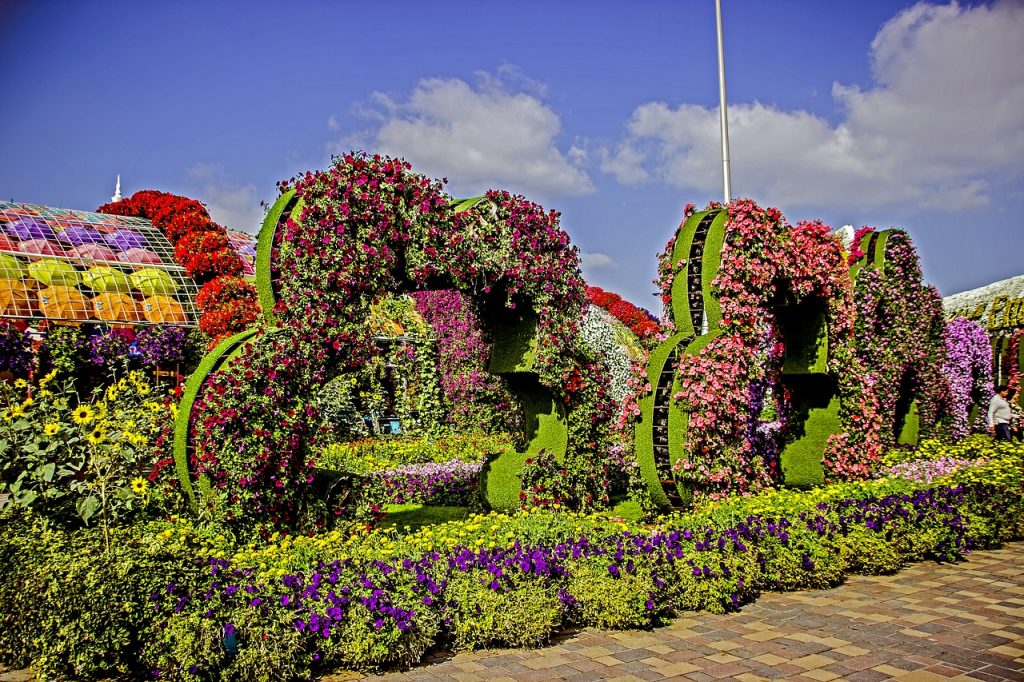 The Clock and the Flower Castle
There's a gorgeous floral clock made of real plants and flowers with designs that change according to the season. Its mechanical parts were imported from the United States of America.
There is also a flower castle consists of small houses decorated with millions of flowers with indoor seating and dining facilities.
The Provided Services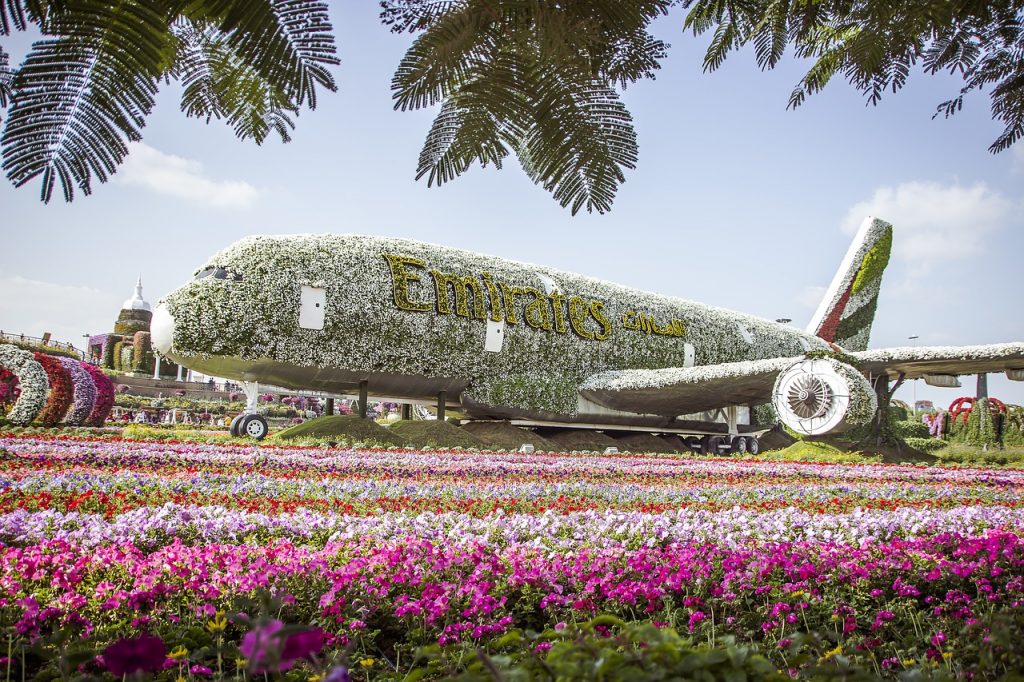 Dubai Miracle Garden offers visitors the latest services and facilities. On top of which are open parking lots, VIP parking lots, sitting areas, prayer room, toilets, ablution facility, security room, first aid room, carts for disabled visitors, retail trade and commercial kiosks.
Circus parties, Zumba and flower parades are also available inside the park, according to pre-set dates.
Prices:
The prices are:
For adults over 12 years: 55 Dirhams
Children from 3 years – 12 years: 40 Dirhams
Special needs and children under 3 years old: free of charge
Prices are in UAE Dirhams with VAT included.
Address:
Al Barsha South 3 – Dubai – United Arab Emirates
Telephone:
+97144228902
Website:
http://www.dubaimiraclegarden.com/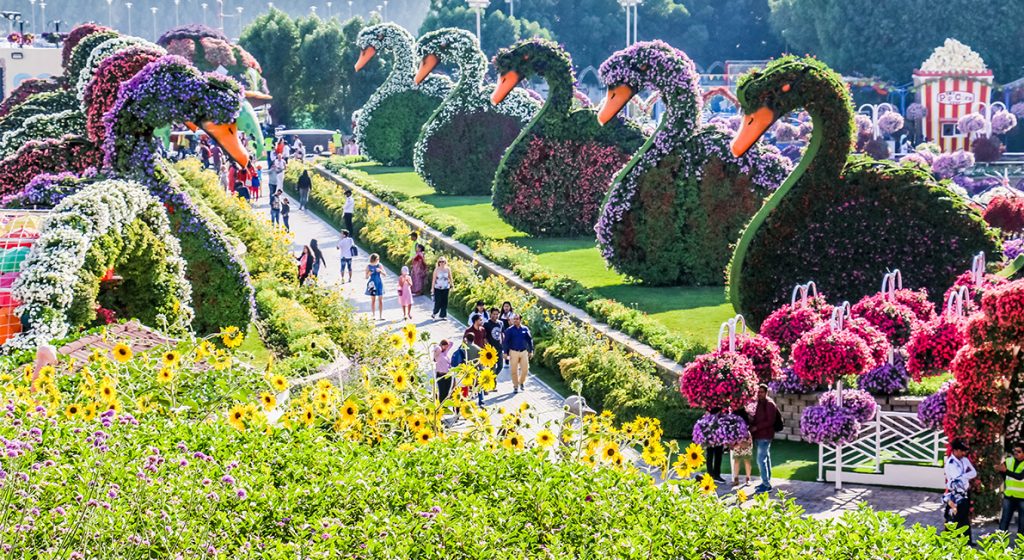 Also, click here to read about Dubai famous malls.